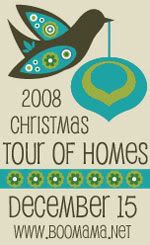 I'm so excited! Today is
Boomama's annual Christmas tour of homes
!
Last year's tour
was so much fun that we're doing it again! If it's your first time stopping in to Quirky is a Compliment, welcome, and come right in! Let me show you around.
Did you happen to catch all the blue icicle lights all along the roof of the house outside? These lights are probably my favorite decorations. There's just something nice about coming home in the evening and having the house trimmed out in lights. Completely worth the hours I spent inching along on my belly on the roof while Tony stood on the ground below and yelled helpful things like "If you fall, chances are it wouldn't kill you...you'd just be in a full body cast". (Such an optimist, my hubby). Regardless, the lights are pretty and twinkly and blue, and I love them.
You may notice that I have a thing for the color blue when it comes to decorating. Blue lights on the roof...
Blue ornaments hanging from the trees in the front yard...

Blue lights in the...wait a minute! Those lights aren't blue! I know, I know. It just so happens that my dear hubby really enjoys those big retro Christmas lights. And even though they mess with my beautiful blue theme that I have going on here, I figure that Christmas is all about sharing, so I put his big retro lights in the Japanese Maple tree by the front door. Now he can enjoy coming home and seeing his lights all lit up too.

So that's the outside...why not come inside and warm up?

Do you like my wreath? I love the silver, even if it does get glitter everywhere!



Ah, here's more of my blue. These are just regular ornaments that I tied with silver ribbon and hung from the chandelier. I think it gives the kitchen a funky, festive touch, don't you?


Another thing we look forward to during Christmas is receiving Christmas cards. We display them on our snowman. Don't mind the cat, Mason...he's just really protective of his Christmas cards.

Here's our nativity scene. We keep it on top of the entertainment center. Experience teaches us that all nativity scenes must be displayed up high in order to discourage inquiring kitty paws from pilfering the occasional wiseman.
Back by popular demand from last year, it's the Christmas fish! I decorate the tank with those window clings in the shape of snowflakes. They also have their own little stocking.
"Merry Fish-mas!"
So there you go! That's the grand Christmas tour! Thanks for stopping by to visit, and feel free to come back anytime. We're a little quirky here, but we think that's a good thing.
And if you're new here, be sure to leave a comment and let me know where you're from so I can return the favor and come see your decorations also.